Colourful leaves, chilly mornings, hot chocolate and chestnuts? Not quite. September was still a full-on summer month: I got to experience some of the hottest days of the year and wear the sundresses that had remained in the closet during the colder-than-expected Northern summer.
It was a busy month both for me and for the blog – in fact, it was the month in which I launched Studying the World. I'd been planning the move for a long time, so I'm glad I finally got around to it.
Offline, it seemed that I was always on the go: from London to Amsterdam to Paris to Greece… Perhaps the most memorable trip of the month was to Rostov, my beautiful city of birth that I hadn't visited in five (!!) years.
This was also the month I got to experience Czech Republic for the first time, bringing the count of countries I've visited to 27 (if you count Palestine. If you also count Scotland and Wales, I'm at 29. And if you include Catalonia..). Only three (or two, or one, or none..) to go to complete my challenge!
Despite all the amazing trips, the highlight of the month was getting to celebrate our 10th anniversary together with my boyfriend. I can't believe we've been together for a whole decade already – I'm so so proud of us!
Travel: Where I went this September
I visited six different countries in the course of September: UK, Netherlands, Czech Republic, Russia, France and Greece.
While I only stopped in Prague for five hours on my way to Russia, it was enough to make me understand why everyone's raving about the Czech capital. Cobbled streets, colourful houses, cute little cafes – Prague was everything I expected a Central European town to be, with a twist of quirky humour that I loved. (I mean, installing a statue of pissing men in the middle of a picture-perfect courtyard – you have to give credit where it's due!) Not to mention the Dancing House, my long-time architectural crush that I finally got to experience for myself.
Notwithstanding the beauty of Prague, I was happy to head back to the airport to catch the plane to Rostov. My trip to Russia was long overdue: the visa regulations, the cost of travel and the need to plan ahead mean I don't visit my grandmother nearly as often as I would like to. The week I spent in Rostov was the warmest I've enjoyed this year, with temperature reaching 35 degrees on some days – cue in short shirts and summer dresses! It was the perfect weather for exploring Russia's southern capital, which has experienced quite a makeover since my last visit as it's preparing to host the FIFA World Cup next summer. The city has created new pedestrian zones, improved roads, renovated old attractions and opened a tonne of new ones.
As always, I was amazed by the hospitality of our Russian friends: I was driven around, taken to restaurants, showered with gifts, and entertained in various other ways throughout my stay. The strangers I encountered were also lovely. As an example, a man I happened to sit next to at the departure lounge in Rostov ended up running throug the Prague airport at 6am with my heavy bag in his hand just to help me catch my connecting flight back to Amsterdam. The outdated stereotype of Russians being unfriendly to strangers needs to be binned asap.
After returning from Russia, I stopped at home for less than 24 hours before heading out again, this time to Paris. The Conference of European Churches had kindly invited me to attend Turn it Up!, a conference on amplifying the Christian voice in a secular Europe. The meeting was of great interest to me both as a Christian and as a PhD researcher working on issues related to religion. The conversations we had about Brexit were particularly important – churches both in the UK and in Europe could and should do much more to support those affected by the referendum, particularly the EU migrants who have been faced with months and months of uncertainty in its wake.
Paris wasn't all work and no play, of course. We enjoyed an evening at a bistro in Montmartre, a dinner cruise on the Seine, long walks and late-night conversations with new friends at a local cafe (big thanks for the picture above to Simon, one such new friend. Check out his Flickr account for more fabulous photos!).
Last but not least, at the very end of September I headed off on an long-awaited adventure with my boyfriend: celebrating our 10th anniversary on the island of Kos. You can read more about our incredible holiday here.
Books I read this month
The best book I read in September was The Days of Abandonment, a beautiful, funny and self-critical exploration of being left by your long-term partner that I devoured in literally one sitting on the plane to Kos. The subject matter was perhaps not the most fitting, as we were on our way to celebrate our 10th anniversary, but Elena Ferrante's prose is so beautiful I simply couldn't resist it.
In other books, I wasn't sure whether I enjoyed or disliked Say My Name by Allegra Huston. I was intrigued by the premise of the novel (an "older" woman embarking on an affair with a young man) and thought that the writing had a nice flow to it. The plotline was somewhat unbelievable, however, and overall Say My Name didn't quite live up to my expectations.
Karen McManus's One of Us Is Lying, on the other hand, managed to exceed them. While the plot of this high school mystery novel was also anything but believable, I liked the feel of the book in general and the way McManus constructed her female protagonists in particular. Yay for interesting, versatile female characters!
Museums I visited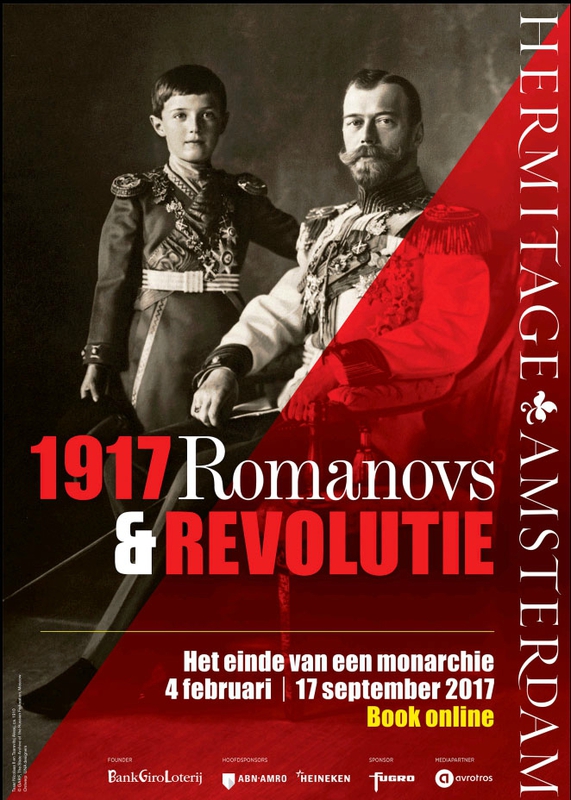 September was a great month for museums.
The Romanov exhibition at Hermitage Amsterdam is probably the most impressive museum experience I've had since Wellcome Collection's wonderful yellowbluebink in autumn 2015 (and I go to museums a lot). Not only did the exhibition shine a light on the tragic story of Russia's last tsar and his family, it also managed to bring pre-revolutionary Russia to life: here were the fancy dresses and the Faberge eggs, but also the signs of the growing discontentment of the mistreated masses, the signs that the tsar ignored and that would ultimately lead to his fall.
Like many people, I find stories about Nikolai II rather fascinating, even more so given that I have a (very very distant, I must admit) personal connection to the tsar: my great-grandmother used to work in the garden of his suburban palace at Tsarskoe Selo. Grandma Katri, as she was known in the family, often chatted with the tsar, whom she described as kind and friendly. I have no reason to doubt that he was just that – but kind and friendly don't necessarily make a good monarch, as the Hermitage exhibition poignantly shows.
Speaking of Russia, I finally had the pleasure of visiting the open-air archeological museum of Tanais during my trip to Rostov. The site of ancient Greek settlement is located some 30km west of city and makes for a perfect day trip. I also made use of the Dutch Museumkaart by spending an afternoon in the Rijksmuseum in Amsterdam – I've now been to the museum four times, but I still haven't covered even half of its ground.
Last but not least, my friend invited me to a wonderful drop-in drawing session at the National Portrait Gallery in London. The session is part of the museum's popular Late shift, and takes place every Friday from 18.30 onwards. What's best, it's completely free! The week that we attended, the goal was to reproduce a portrait we liked, paying particular attention to details. I chose my namesake, Queen Elizabeth I, and was quite pleased with the end result 😀 What do you think?
Any shows or movies?
Yes – a friend and I went to see (and hear) the Unseen Hour, a live horror-comedy podcast recording in a East London pub. It wasn't too scary, but great fun!
I also got to see Dima Bilan, one of my favourite Russian artists and the winner of the 2008 Eurovision, live for the third time! Rostov celebrated its 268th birthday while I was in town and organised a huge open-air concert to mark the occasion, booking Bilan as the main act of the night.
Best restaurants
Our anniversary dinner at Bak was exquisite. The restaurant is located on the upper floor of a former warehouse and boasts stunning views over the harbour (I have no photos to show you, as we left the phones at home). The six course set menu is put together from local ingredients and can be altered to cater for any dietary requirements. It wasn't easy finding a vegetarian-friendly fine dining place in Amsterdam, but the search certainly paid off.
In a completely different category of restaurants, I have to mention Smetana in Rostov. The cute cafe offers delicious Russian food for unbelievable (by Western standards) prices:  you can get a large plate of steaming pelmeni for a couple of euros and a three-course lunch with drinks for under a fiver. I wish we had a place like this in London or Amsterdam!
Other interesting things
I attended a weekend retreat at the beautiful Cumberland Lodge with my fellow PhD scholars (above). It was my fifth visit to the magnificent 17th century countryhouse. By now, I'm familiar with the historic dining hall, the majestic grand staircase, the tapestry-clad walls of the Lodge. Yet the feeling of familiarity is still mixed with that of an awe: entering the building always feels like stepping into an English fairytale. What's more important, however, is the atmosphere – I always have a great time at the Lodge, and this weekend was no exception.
Favourite blog posts
It's hard to name a favourite, but if you read only one post from September, make it this one about Amsterdam in the fog. For one Sunday morning, we got to see Amsterdam like we had never seen it before, and it was absolutely stunning.
---
Thank you, September! And thank you If you've read this far – please leave a note of yourself in the comment box below 🙂 I would also love to hear what your September was like – where did you go? What books did you read? Did you visit any good shows or exhibitions?